Pilates Classes Worcester

All Worcester Pilates classes are held at United Reformed Church, Albany Terrace, Worcester, WR1 3DU.
Mondays:
9.30 am – 10.30 am
10.45 am – 11.45 am
Tuesdays: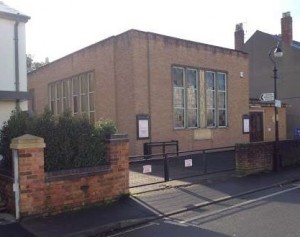 9.30 am – 10.30 am
Wednesdays:
9.30 am – 10.30 am
10.45 am – 11.45 am
6 pm – 7 pm
7 pm – 8 pm
£48 Pre-paid block of 6 classes
Adult Ballet Classes
Tuesdays:
7pm – 8pm

Did you know……
we also offer 'one to one' sessions? Click here for further information.
More about our classes and our instructor
ACH Pilates & Dance combine both disciplines to offer effective classes that are enjoyable and taught with plenty of enthusiasm along the way!
In our warm, friendly and well equipped environment, everyone from beginners to the more experienced are welcome.
All you need to do is wear fairly close fitting but comfortable clothes and arrive ready to work hard and have fun!
Classes also help to foster new friendships as well as providing comprehensive training.
Pilates Group Mat Classes
Pilates is suitable for women and men of all age groups and my carefully designed sessions will help you, with mental and physical application, to strengthen your muscles and improve and maintain overall flexibility.
Pilates mat work classes are an excellent way to develop your body whilst interacting with others in a positive environment.
The series and build-up of exercises allow you to create graceful stretches from the floor, and exert gentle pressure on specific muscles to strengthen your core.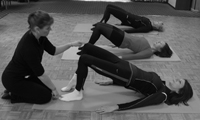 Adult Ballet Classes
Ballet is elegant and disciplined and is considered by many professional practitioners to form the fundamentals of all dance. My adult ballet classes are suitable for all abilities and experience and will provide you with an enjoyable experience where you are free to express yourself and your movements to selected music.
These sessions will be constructed of suitable Classical Ballet Barre exercises for adult beginners or a complete Ballet Class from pliés to allegro for the more experienced.
Sport And Pilates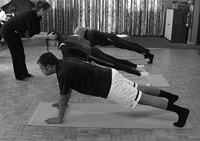 Sport is a great form of exercise to achieve cardiovascular fitness with endurance, strength and flexibility at the heart of its activity.
Most sports use the major muscles of the body to varying degrees and my own experience in the field of rowing has led me to understand why Pilates and sport is such a great fit. The development of a strong core and sound posture will enable you to gain greater understanding in stabilising and isolating your muscles to provide you with a greater competitive edge.
How To Get Started
To book our classes or for more information, please make contact via the contact page.