Pilates Worcester
Enjoy Pilates Classes in Worcester
Get fit, have fun and meet new people at your local Worcester pilates classes. My name is Alex Howarth and I am a fully qualified Pilates and dance instructor. Ballet and Pilates compliment each other so well, that I like to combine both disciplines into my classes for a truly holistic approach.
My Worcester Pilates classes are held throughout the week in our warm, friendly and well-equipped studio. We welcome everyone, from beginners to those with more experience!
Who Can Benefit From Pilates?
We strongly believe that everyone, regardless of age can benefit from Pilates and we encourage everyone to join us to experience the benefits first-hand in one of our Worcester Pilates classes.
Pilates is a safe and effective system of exercises which strengthen the body by focusing the mind on targeting and developing weak muscle function in a balanced, stress-free way. It can be beneficial to everyone irrespective of sex, age or current body condition.
The emphasis is on the trunk or 'core' muscles, where increased strength significantly assists spine support and subsequent improvement in posture and shape. Continued practice improves health and a greater sense of well-being.
Bespoke programmes are offered according to the individual, whether developing high fitness levels or those needing post-surgery or injury rehabilitation.
Performed correctly, Pilates not only conditions the body, but assists your breathing, fine tunes your balance and coordination, and teaches you how to carry yourself in a better way so that every area of your daily life is improved.
What And Who Is Joseph Pilates?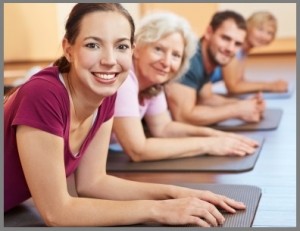 The Pilates method focuses attention on the correct use of breath, alignment and coordination. Each movement is precisely performed to centre the mind on controlling core postural muscles that support the spine. This comprehensive system not only tones weak muscles but also ensures joints are maintained at their optimum mobility to provide the requisite balance of both strength and suppleness of the body.
Joseph Pilates invented this form of exercise to help rehabilitate fellow German citizens held in internment camps during the First World War. Calling his method 'the Art of Contrology,' and believing mental and physical health went hand in hand, he devised a series of exercises and training techniques to keep the body in peak physical condition with the emphasis on controlling and stabilising muscles.
Returning to his native Germany after the war, he became disillusioned with political and social conditions and emigrated to America where together with his wife Clara, he continued to devise his system in collaboration with eminent dance practitioners in New York. Following his death in 1967 aged 83, his method was brought over to the UK by Alan Herdman in1970 and has since received worldwide acclaim.
Joseph Pilates lifelong but unfinished work continues to evolve and is widely recognised by medical practitioners in referring patients to qualified, experienced Pilates instructors, particularly those with muscular-skeletal problems or injuries
Pilates And You
Like Joseph Pilates, I believe that the modern lifestyle, poor postural control, and inefficient breathing, lie at the root of poor health.
Having pursued a career in dance, I am a firm advocate of Pilates not just for complementing ballet technique but in making a huge difference to the lives of all those who practice it. Pilates has a proven record in helping clients with physical ailments such as back problems to correct their posture and avoid recurrence of life debilitating pain.
Whether you are a teenager needing improved postural control during a challenging growth spurt or an elderly client who is missing out on the enjoyment of gardening due to a lack of mobility, Pilates is enormously beneficial to all!
Through careful selection and monitoring of exercises, every position and movement is carefully explained and performed with attention given to your breathing and the way you move to achieve the greatest benefit and alignment for your whole body.
Using precise but simple, effective exercises, my methodology teaches you to learn and understand how your body works and what you need to do to keep yourself healthy.
Rehabilitation And Remedial Pilates
Should you have a sports injury, chronic medical complaint or need any form of post-operative rehabilitation, Pilates will help in conjunction with any treatment offered no matter how severe the condition.
I have worked with youngsters with abnormal spinal curvatures (scoliosis) as well as older clients suffering complications following vertebral disc operations.
Pilates can make life-enhancing changes to those who are wheelchair bound, partially paralysed after a stroke or requiring substantial pre and post-operative care for modern day procedures such as hip replacements. Pilates has a proven record in helping clients with physical ailments such as back problems by teaching correct posture to avoid recurrence of life debilitating pain.
Poor posture within the workplace is extremely common and can lead to long-term skeletal issues and repetitive strain disorders. Pilates teaches you how to combat this and avoid severe pain and mobility issues in later life. It is also an extremely popular and effective system during pre and postnatal care, particularly for recovering tone and shape after pregnancy.